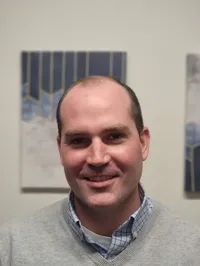 Jerad Phillips moved to the Berkshires following the completion of his master's program in August of 2014 and now enjoys living in Lanesborough with his wife of 10 years and two children. Jerad completed his master's program from the Nyack Alliance Graduate School of Counseling, where he graduated with distinguished honors. Jerad enjoys spending time with his family in their Garden and being outdoors. Jerad is an avid outdoorsman who loves being in nature through activities such as hiking, fishing, camping and climbing. Jerad spent many years of his youth climbing the High Peaks of the Adirondack Mountains with his two brothers and father which they still enjoy doing to this day.
Jerad is a Licensed Mental Health Counselor who specializes in working with individuals and families of all ages and with a variety of conditions. Jerad uses a multimodal approach within the context of a youth's family system that is designed to fit the needs of you and your child. Just a 30 minuet consultation with Jerad could help move your family towards experiencing the healthy and happy relationships you desire.
Jerad uses Mindfulness Based Cognitive Therapy, Behavior Therapy, Behavior Modification Therapy, Child Behavior Management, Trauma Focused Cognitive Behavioral Therapy and Positive Psychology to help improve and strengthen family relationships, helping your child to cope better and develop skills that they can use for a lifetime of resiliency and healthy relationships. Jerad uses a person centered approach that incorporates the role that the family plays on shaping an individual. A consultation with Jerad can help you understand how your own childhood experiences and attachment style contribute to the attitudes, beliefs and misbeliefs that you may have about parenting, giving you the tools and resources needed to be the best parent you can be!
A consultation with Jerad can also help you find the right community resources that your family needs to be successful including services like Intensive Case Coordination (ICC), In-Home Therapy (IHT) and In-Home Behavioral services (IHBS) and Out Patient Services (OPS) through your local Community Service Agency. In your consultation you will learn about treatment strategies that are integrated with your child's Primary Care Physician providing you with a comprehensive approach towards wellness. You will leave your consultation with techniques and interventions in hand that you can try at home to help give you and your child the best chance of improving their condition.
If you are interested in this service please give your doctor a call and ask to speak with one of the In-house Behavioral Health Consultants today or ask to book an appointment with Jerad at your next office visit. We look forward to seeing you!